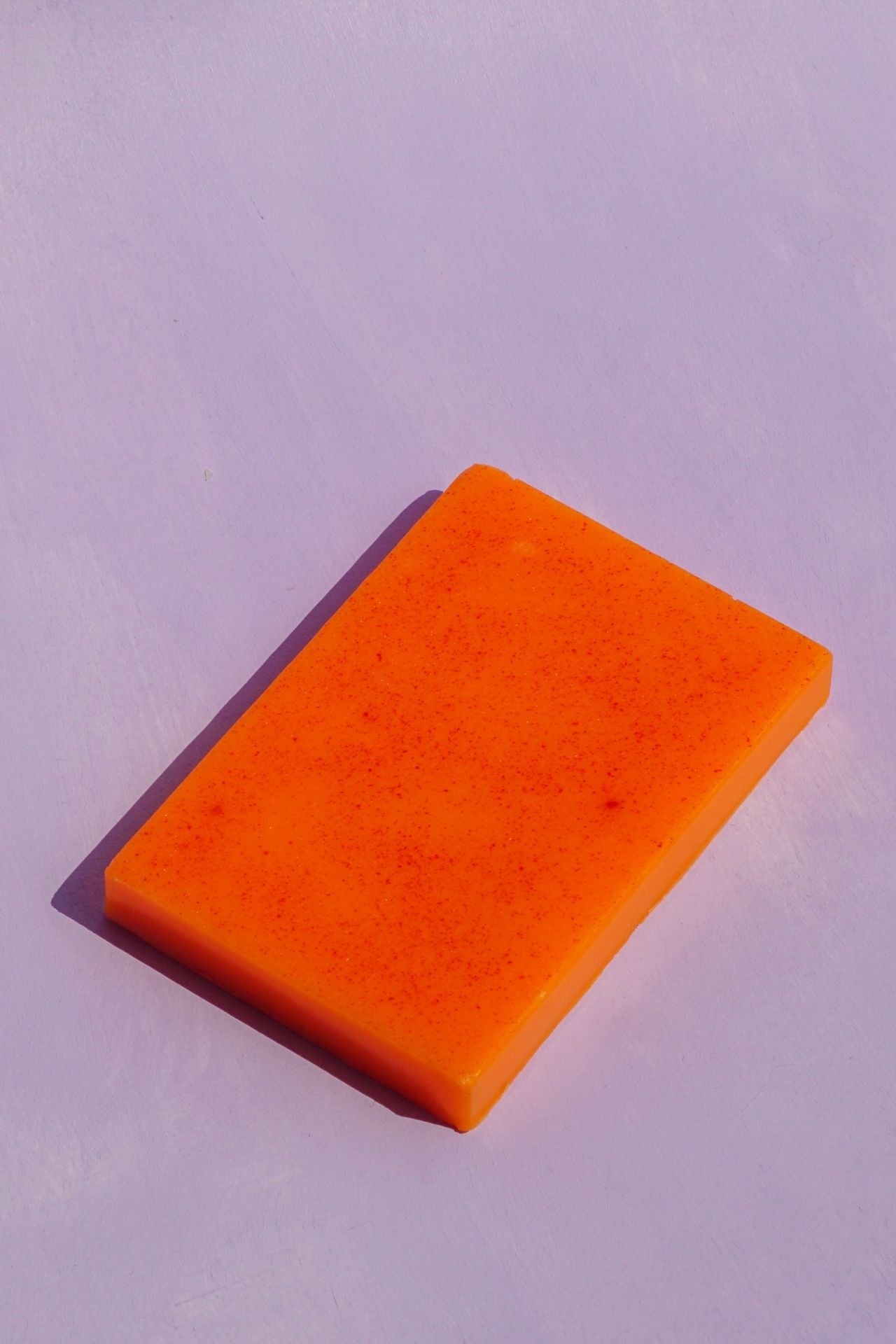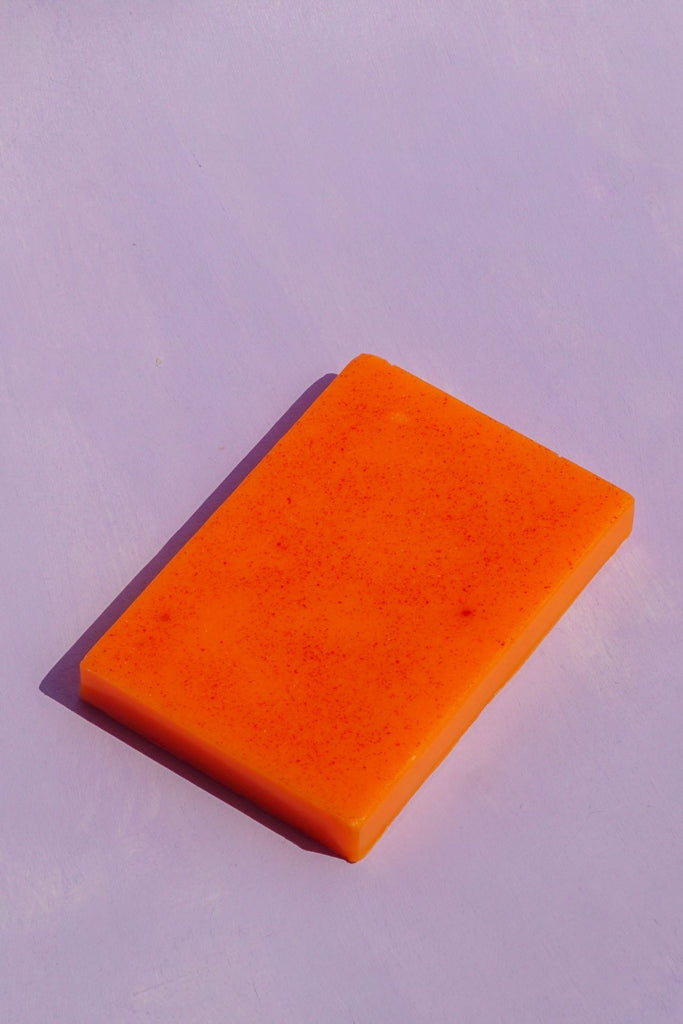 Get It Fast
Orders Ship in 1-3 Business Days
Passion Fruit Hyperpigmentation Soap Try Me
Say sayonara to dark spots on your skin for good
This ultra-gentle lightening soap for hyperpigmentation banishes the look of dark marks with regular use
WHY BABES LOVE IT
Shaving and picking blemishes take a toll on your skin. No shame in it, all skin types get discoloration and acne scars now and then
Stop the cycle with a 2-in-1 hyperpigmentation eraser that cleanses and targets dark marks for a fresh, glowy complexion in one step
The secret? Powerful redness-reducer Azelaic Acid lifts away damaged pigment, brightens skin safely and supports normal melanin production for beautifully even-toned skin
Don't second guess it, you can use it on your face, chest, underarms, legs, back, butt and bikini line.
You may see improvements early on, but it takes 8-12 weeks for full results
Good For
dark spots
dull skin

hyperpigmentation
Size: 1 oz -- Expires in 12 months .** Vegan, cruelty-free, handcrafted
Run soap under warm water, lather onto an exfoliation brush and gently massage into your skin. Rinse with cool water, then apply the Brightening C Serum to entire area.
Saponified Oils of Cocos nucifera. Butyrospermum parkii. Olea europaea L. Elaeis guineensis. Carthamus tinctorius. Sodium Hydroxide. Aqua. Glycerin. Melaleuca Alternifolia. Sorbitol. Vegetable Propylene Glycolic (Glycerine). Sorbitan oleate. Hydrolyzed oat protein, Calcium gluconate, Vitamin-E. Potassium Azeloyl Diglycinate (Azelaic Acid). Mica, Titanium Dioxide, Iron Oxide.
See it in real life
Let's say sayonara to dark spots on skin for good. This ultra-gentle lightening soap for hyperpigmentation banishes unsightly dark marks with regular use. The secret? It's our Brightening C Serum in soap form with the power of redness-reducing azelaic acid, the ideal combo for fighting hyperpigmentation and blemishes on body, chest and back. You don't need messy skin lightening cream to get perfect skin. Our 2-in-1 hyperpigmentation soap kills two birds with one stone by cleansing your bod AND improving the look of pesky dark spots in one easy step. Lather up with this zesty citrus bar soap to gradually lighten the appearance of dark spots on face and body naturally. It's the most convenient way to hydrate and fix uneven skin. 
PACKAGING TYPE: Compostable pouch packaging 
HOW TO USE
Run soap under warm water, lather onto an exfoliation brush and gently massage into your skin.
Rinse with cool water, then apply the

 

Brightening C Serum

 

to entire area.  
BENEFITS
Diminishes signs of discoloration
Combats dark spots and redness
Pairs perfectly with the Brightening C Serum
KEY INGREDIENTS
CITRUS LIMON PEEL: Yes, limon, not lemon. A powerful antioxidant that brightens discolored skin, it diminishes signs of hyperpigmentation on the body. 
AZELAIC ACID: Significantly reduces the irritation, redness and discoloration that can come from acne. Helps unclog pores and keep them clear. 
View full list of ingredients here.
*All items are 100% Vegan and Cruelty-Free, Paraben-Free, and hand-crafted with love.
Should ONLY be used on affected areas. Should NOT be used on entire body or sensitive areas.
Get It Fast
Orders Ship in 1-3 Business Days
what our nolababes say
" I love using this cleanser as a start to my daily and nightly routinue "
samantha, los angeles, us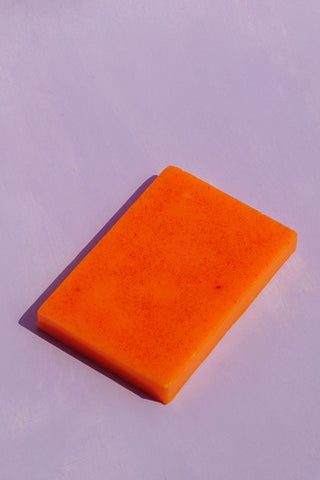 Passion Fruit Hyperpigmentation Soap Try Me
Say sayonara to dark spots ...
A New kind of care for your skin 💜
A New kind of care for your skin 💜
A new kind of care for your skin 💜
A new kind of care for your skin 💜
Nola Vs Everybody
Skincare concern:
Dark spots/Redness, Cystic Acne
A perfect sample size
Seriously - if you don't leave this bar in the shower / tub where it could get wet, it'll last you for a good while, even with washing your face twice a day. Out of all of the products I've tried from this site, this has been the only one that didn't result in break outs. I haven't been using it long enough (I think it needs to at least be a few months) to say if it's really made a difference with evening out my skin tone, but I was convinced enough to purchase a full size bar. I just wish that there was an option to buy the bar alone instead of either two at once or one bar with the gloves.
Skincare concern:
Blackheads/Whiteheads
A long time favorite
I first started using Nolaskinsentials back in 2020 and since revisited their body products. This soap makes my skin for so soft and supple. Using it with the Lets Get Intimate scrub has been the ultimate hack for getting rid of razor bumps!
Skincare concern:
Large pores
Bundles
great soap but can y'all Please stop only offering the big one as a bundle🙄 I get you're trying to capitalize but sometimes people just want the soap and don't anything with it… thanks
hey angela, thanks for your review!
if you are looking for something smaller, you can select the passion fruit + buff glove or the passion fruit duo pack <3 hope this helps babe!
Skincare concern:
Clogged pores, Blackheads/Whiteheads, Dark spots/Redness
So far so good!
Did the try me size of the passion soap and loved it, ordering again!
Skincare concern:
Blackheads/Whiteheads, Dark spots/Redness
Hyperpigmentation Passion fruit soap
I used this soap daily for about 2 months. I had very high hopes but unfortunately it didn't do anything for me. :(
Skincare for acne, hyperpigmentation, and intimate areas